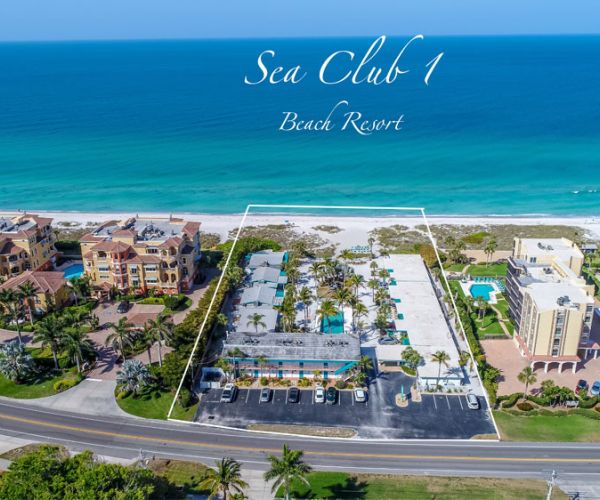 Discover the Charm of Longboat Key at Sea Club 1
Nestled directly on the sun-kissed shores of the Gulf, Sea Club 1 offers a blend of secluded serenity and proximity to the vibrant heart of St. Armand's Circle. Dive into a world where vintage luxury meets modern comforts. Whether you're seeking a tranquil retreat, a romantic escape, or a memorable family vacation, our spacious accommodations are designed just for you.
Vintage Luxury
Embrace the timeless elegance of our property, where the gentle waves meet a pristine sandy beach. Dive into our heated swimming pool, indulge in a BBQ under the stars, or simply unwind with our range of top-tier amenities. And for the health-conscious, breathe easy in our entirely non-smoking property, with designated areas for those who choose.
World Class
Service & Amenities
Located within Longboat Key on Florida's Gulf Coast it is famous for its long white unspoiled beaches.The perfect place to kick off your shoes, relax and enjoy life. Sea Club 1 encompasses all that Florida is with it's quaint, 'Old Florida' feel.
trish chislett
2023-08-20
4th Anniversary there!!! It never gets old.
Linda Gonzalez
2023-06-06
We didn't actually stay here because at the last second we got Covid. Sea club could have easily kept our money because we were past the refund policy date but they didn't. They showed compassion and that they were not just out for money. I hope we can stay with them in the future. Sea Club is obviously run by awesome people. Anyone who stays here will obviously be well taken care of!! A++++++. Just an update we're finally getting to stay at Sea Club and we're really looking forward to our trip in a few weeks. We came back because they were so kind to refund our money last year when we all were sick with COVID. That's good business sense and also a nice thing they did for us.
We stayed for two weeks and I loved it! Sea Club 1 is conveniently located on LBK. It was a short drive to Publix, St Armands Circle and Anna Maria Island. It was great to be a few steps from the beach or pool. The resident managers, Max and Lisa, as well as their office staff member, Catherine, were all very friendly and helpful. Our unit was super cute and nicely decorated. It had pretty much everything you could need for a vacation. I can't wait to return!!!
We had a wonderful stay in Unit 43. Such a relaxing place with a nice pool, steps from the beach and free beach chairs. We will definitely stay here again!
We spent 3 nights here. The water is beautiful, the beach is pristine and the grounds are wonderfully tropical. There are plenty of beach chairs and 2 gas grills. The pool is huge with tables, chairs and umbrellas. We were in unit 34, a one bedroom. It was clean and well furnished. The full kitchen had everything a person could possibly want, even a rolling pin. It was quiet even though full. For us, it was heavenly.